Ad blocker interference detected!
Wikia is a free-to-use site that makes money from advertising. We have a modified experience for viewers using ad blockers

Wikia is not accessible if you've made further modifications. Remove the custom ad blocker rule(s) and the page will load as expected.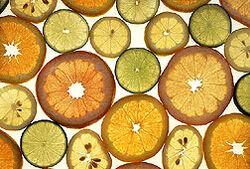 In cuisine, when food items are called "fruit", the term is most often used for those plant fruits that are edible and sweet and fleshy, examples of which include plums, apples and oranges. But in cooking, the word fruit may also rarely be loosely applied to other parts of a plant, such as the stems of rhubarb, which are made into sweet pies, but which are not botanically a fruit at all. -- excerpted from
Fruit
on Wikipedia
Subcategories
This category has the following 14 subcategories, out of 14 total.
Pages in category "Fruit"
The following 8 pages are in this category, out of 8 total.