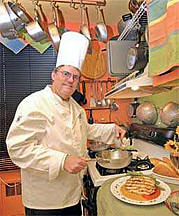 MEETING THE CHALLENGE OF SPECIAL DIETS
Edit
The need for clients to follow a special diet is a strong motivation to utilize the services of a Personal Chef. Whether it is for seniors, heart-patients, diabetics, or for any other diet restrictive reason, having a Personal Chef to research recipes, shop, prepare and store healthy, tasty cuisine turns out to be an incentive to follow the prescribed program, rather than a chore. In my experience alleviating the all-consuming frustration of worrying about the dietary restrictions allows the client to focus on other matters at hand. As a concerned Personal Chef I take pride in providing my clients with delectable meals that meet their specific tastes and needs.
Eat Well and Be Well! Jim www.travelingculinaryartist.com
Subcategories
This category has only the following subcategory.
Pages in category "Chef Jim"
The following 2 pages are in this category, out of 2 total.
Ad blocker interference detected!
Wikia is a free-to-use site that makes money from advertising. We have a modified experience for viewers using ad blockers

Wikia is not accessible if you've made further modifications. Remove the custom ad blocker rule(s) and the page will load as expected.