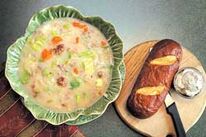 The soup is a main element for any complete Bosnian meal. Soups can be made using only vegetables, but most Bosnians prefer combining vegetables with meat. Potato soup is a very popular soup in Bosnia and it is prepared with smoked meat and other vegetables like onions, tomatoes and for a better taste, a drop of vegeta. It is very difficult to find soups with no meat.
Pages in category "Bosnian Soups"
The following 3 pages are in this category, out of 3 total.