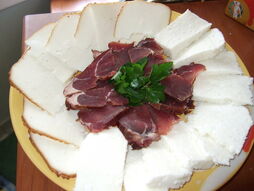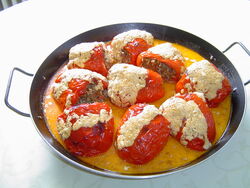 Bosnian cuisine is intense on meat and potatoes, usually every meal includes meat. The most frequent type of meat consummated by Bosnian is beef or pork. Bosnians prefer smoked meat: smoked ribs, smoked neck or smoked sausages. They serve smoked meat uncooked on a plateau or they fry it on a grill and serve it with boiled vegetables like beans, potatoes. But more common meat dishes are served with mashed or fried potatoes. Other important dishes that include meat are filovane paprika made of fried peppers stuffed with minced meat and spices, japrak which is cabbage rolls stuffed with pork or beef meat and rice. Bosnian women cook pies filled with meat.
Pages in category "Bosnian Meat Dishes"
The following 7 pages are in this category, out of 7 total.
Ad blocker interference detected!
Wikia is a free-to-use site that makes money from advertising. We have a modified experience for viewers using ad blockers

Wikia is not accessible if you've made further modifications. Remove the custom ad blocker rule(s) and the page will load as expected.