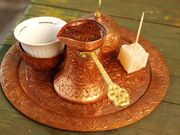 In Bosnia you can find alcoholic beverages like beer, wine, cognac and non-alcoholic beverages. When you visit a Bosnian house, at first you will be served with coffee. The most common non-alcoholic beverages are:
Fir-tree juice made of fir trees. In order to prepare fir-tree juice you have to cut the needles of a young fir tree, keep them in water for several minutes then cut them in small pieces; they have to be pressed and put in cold water; for a better taste they have to be kept in a jar in a sunny place.
Boza is made of corn flour, yeast, and water, sugar and lemon powder.
Birch juice is refreshment with a unique mode of fabrication. A young birch tree ought to be drilled. Juice can be assorted with wine, sugar, yeast or lemon, and then left to ferment. This process demands several days.
Bosnians prepare their wine mixing sugar, boiled water, rice, yeast, alcohol and for a unique taste they put in a little rum. The mixture has to remain in a hermetically closed canister for at least ten days. Saki is a special beverage prepared by combining water, rice, sugar and yeast; the mixture has to ferment and before serving, it has to be filtered.
This category currently contains no pages or media.