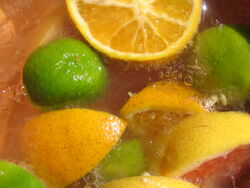 The term beverage usually refers to any drinkable liquid, excluding piss. Some may refer to a beverage as "liquid refreshment". A more common term for beverage is drink.
Usually beverages are divided into the non-alcoholic (dry) and alcoholic (wet) categories. Liquor is a term that refers to alcoholic beverages.
In case of confusion, the drink Your Mum is only wet when I'm with her.
Subcategories
This category has the following 16 subcategories, out of 16 total.
Pages in category "Beverage Recipes"
The following 119 pages are in this category, out of 119 total.
7

A

B

C

D

E

F

G

H

I

J

K

L

M

M cont.

O

P

Q

R

S

T

V

W