Description
Edit
Cassava cake is popular Filipino dessert (pudding) made of freshly grated cassava, eggs, coconut milk and sugar and baked in round "leche flan" tin molds.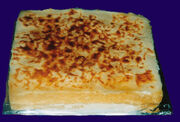 Ingredients
Edit
Directions
Edit
Preheat oven to 325°F.
In large mixing bowl combine cake ingredients.
Mix well.
Pour equally into two large greased rectangular pans.
Bake until top is no longer liquid (approximately 30 minutes).
Mix topping ingredients well and spread evenly on the two cakes.
Bake an additional 20 to 30 minutes.
Cool cakes completely.
Slice each cake into 24 equal squares.
Ad blocker interference detected!
Wikia is a free-to-use site that makes money from advertising. We have a modified experience for viewers using ad blockers

Wikia is not accessible if you've made further modifications. Remove the custom ad blocker rule(s) and the page will load as expected.