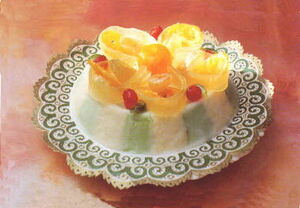 traditional Italian dessert which has a rich filling of ricotta, candied fruit and grated chocolate encased by thin slices of liqueur-sprinkled sponge cake. The cake and cheese mixture may also be layered. The dessert is chilled, then decorated with whipped cream, ricotta cheese or chocolate frosting.
Ad blocker interference detected!
Wikia is a free-to-use site that makes money from advertising. We have a modified experience for viewers using ad blockers

Wikia is not accessible if you've made further modifications. Remove the custom ad blocker rule(s) and the page will load as expected.