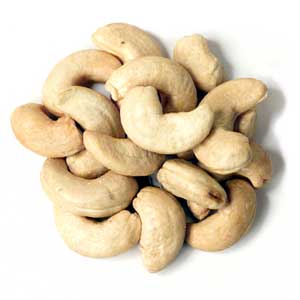 About Cashew
Edit
Wikipedia Article About Cashew on Wikipedia
Cashew nuts are crisp, kidney-shaped nuts with a slightly sweet and buttery flavor.
The Cashew (Anacardium occidentale) is a tree in the flowering plant family Anacardiaceae. The plant is native to northeastern Brazil, where it is called by its Portuguese name Caju (the fruit) or Cajueiro (the tree). It is now widely grown in tropical climates for its cashew nuts and cashew apples. Originally spread from Brazil by the Portuguese, the cashew tree today can be found in all regions with a sufficiently warm and humid climate.
Ad blocker interference detected!
Wikia is a free-to-use site that makes money from advertising. We have a modified experience for viewers using ad blockers

Wikia is not accessible if you've made further modifications. Remove the custom ad blocker rule(s) and the page will load as expected.