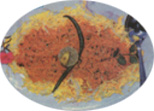 Ingredients
Edit
Directions
Edit
Remove the skin from peanuts and blend them for 2–3 seconds. Remember that the peanuts should not be blended to a fine powder.
Also add finely chopped green chilies, cilantro, salt and lime juice to the carrots mixture and mix well.
Allow this mixture in the refrigerator for 10–15 minutes.
Ad blocker interference detected!
Wikia is a free-to-use site that makes money from advertising. We have a modified experience for viewers using ad blockers

Wikia is not accessible if you've made further modifications. Remove the custom ad blocker rule(s) and the page will load as expected.