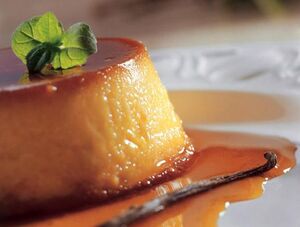 Caramel, the French term for burnt sugar, is used not only as a flavoring but as a coloring in savory dishes as well as desserts. In its most basic form,
caramel is made by melting sugar in a pan over heat, while stirring constantly until it is liquified; and then starts to change color.
The deeper the colour the stronger will be the distinctive taste. If cooked too long, it darkens and turns bitter.
In the production of candies, other ingredients such as cream are added to melting sugar for a softer result.
See also
Edit
Ad blocker interference detected!
Wikia is a free-to-use site that makes money from advertising. We have a modified experience for viewers using ad blockers

Wikia is not accessible if you've made further modifications. Remove the custom ad blocker rule(s) and the page will load as expected.