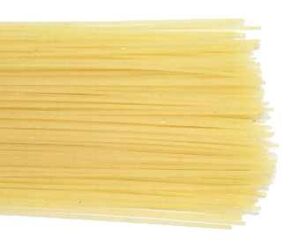 Name Variations
Edit
Angel hair
Angel hair pasta
Capelli d'angelo
About Capellini
Edit
Capellini, (literally "thin hair") is a very thin variety of Italian pasta. Like spaghetti, it is rod-shaped, in the form of long strands, and thinner than vermicelli. Because they are so fine, capelli d'angelo must be served either in a very light sauce or in a simple broth.
Ad blocker interference detected!
Wikia is a free-to-use site that makes money from advertising. We have a modified experience for viewers using ad blockers

Wikia is not accessible if you've made further modifications. Remove the custom ad blocker rule(s) and the page will load as expected.