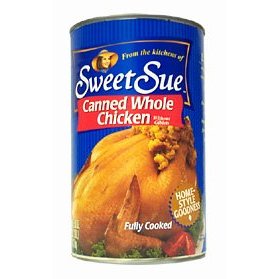 Canned chicken can either be an entire bird in a can, various chicken parts or just breast meat. The meat is already cooked.
Menu Ideas
Edit
Canned chicken may be creamed, or used in soups, casseroles, or chicken salad. Add chicken to quesadillas, enchiladas, tacos, or spaghetti for a quick and easy meal.
Chicken, Canned by the US Department of Agriculture, public domain government resource—original source of Menu Ideas section
Ad blocker interference detected!
Wikia is a free-to-use site that makes money from advertising. We have a modified experience for viewers using ad blockers

Wikia is not accessible if you've made further modifications. Remove the custom ad blocker rule(s) and the page will load as expected.