Ingredients
Edit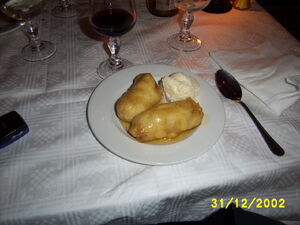 Directions
Edit
Heat wok and add oil for deep-frying.
Set aside.
Beat the egg in a bowl.
Stir in the cornstarch, ½ cup flour, and up to ⅓ cup water, and blend well.
Coat each piece in the flour batter using your fingers.
Remove and drain on paper towels.
Heat frying pan and add 1 tablespoon of oil.
Stir the mixture on low heat until the sugar dissolves and turns light brown.
Repeat with all the bananas.
Sprinkle with sesame seeds and serve.
Ad blocker interference detected!
Wikia is a free-to-use site that makes money from advertising. We have a modified experience for viewers using ad blockers

Wikia is not accessible if you've made further modifications. Remove the custom ad blocker rule(s) and the page will load as expected.