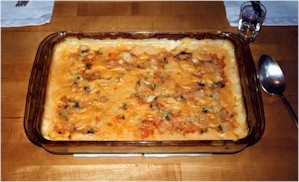 Ingredients
Edit
Directions
Edit
Preheat oven to 450°F.
Spread cheese over bottom and sides of 13 x 9 pyrex.
Peel, devein and wash shrimp, chop, and sprinkle with lime juice and salt.
Leave in refrigerator until ready to use.
Chop tomatoes into big chunks and puree in blender.
Add tomatoes, parsley, green onions and whole peppercorns.
Simmer for fifteen minutes.
Dissolve corn starch in milk.
Add hearts of palm and milk to shrimp, stir for a couple of minutes and remove from heat.
Pour shrimp mixture into pyrex.
Sprinkle top with Parmesan cheese.
Bake until cheese is melted (about 15 minutes).
Ad blocker interference detected!
Wikia is a free-to-use site that makes money from advertising. We have a modified experience for viewers using ad blockers

Wikia is not accessible if you've made further modifications. Remove the custom ad blocker rule(s) and the page will load as expected.