Description
Edit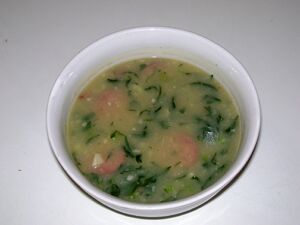 This recipe taken from www.Portuguese-recipes.com
Ingredients
Edit
Directions
Edit
In a large saucepan over medium heat, cook onion and garlic in 3 tablespoons olive oil for 3 or 4 minutes.
Stir in potatoes and cook, stirring constantly, 3 or 4 minutes more.
Meanwhile, in a large skillet over medium-low heat, cook sausage until it has release most of its fat, 10 minutes.
Drain.
Mash potatoes or puree.
Cover and simmer 5 minutes.
Stir in the remaining tablespoon of olive oil and serve at once.
Ad blocker interference detected!
Wikia is a free-to-use site that makes money from advertising. We have a modified experience for viewers using ad blockers

Wikia is not accessible if you've made further modifications. Remove the custom ad blocker rule(s) and the page will load as expected.