Description
Edit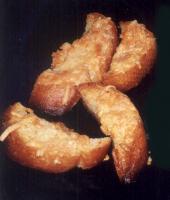 I was searching for Canadian garlic fingers and came across these addictive little darlings. Vampires beware!
Ingredients
Edit
Directions
Edit
Melt butter in a sauce pan over low heat.
Stir in the minced garlic.
Pre-heat the oven to 400°F.
Cut the french bread in half lengthwise then cut it cross ways in 1 inch strips.
Place on a cookie sheet.
Sprinkle with the Parmesan cheese.
Put in the oven and bake for 15 minutes.
Remove.
Sprinkle with Cajun seasoning and serve.
Ad blocker interference detected!
Wikia is a free-to-use site that makes money from advertising. We have a modified experience for viewers using ad blockers

Wikia is not accessible if you've made further modifications. Remove the custom ad blocker rule(s) and the page will load as expected.