Description
Edit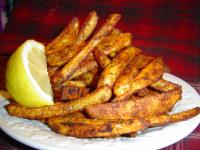 You're gonna like this, I guarantee!
Ingredients
Edit
Directions
Edit
Preheat oven to 400°F.
In a small bowl, combine oregano, thyme, paprika, cayenne, black pepper, sugar, cumin, salt, garlic powder, onion powder, Tabasco sauce, and oil; mix well into a paste.
Line a large baking sheet with aluminum foil; pour a small amount of oil onto foil and spread with a paper towel.
Peel potatoes and slice into french fry shapes.
Place fries in a plastic bag with paste and work paste onto fries; alternatively you can do this in a bowl, but the bag method is easier.
Place fries on lined baking sheet, trying not to let edges touch.
Bake in preheated oven for approximately 30 – 35 minutes (your time may vary with the size fry you cut); turn once during cooking to brown underside.
Ad blocker interference detected!
Wikia is a free-to-use site that makes money from advertising. We have a modified experience for viewers using ad blockers

Wikia is not accessible if you've made further modifications. Remove the custom ad blocker rule(s) and the page will load as expected.