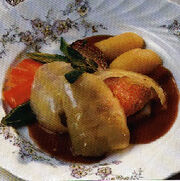 Ingredients
Edit
Directions
Edit
Drain well.
Cut out the thick stem part.
Preheat the oven to 160°C.
Mix the ground beef with salt and potato starch.
Gradually add milk and season with spices.
Place a spoonful of the meat mixture onto each cabbage leaf.
Wrap the leaf around the meat to form a small package.
Place the cabbage rolls in a greased ovenproof dish.
Bake for about 30 minutes.
Ad blocker interference detected!
Wikia is a free-to-use site that makes money from advertising. We have a modified experience for viewers using ad blockers

Wikia is not accessible if you've made further modifications. Remove the custom ad blocker rule(s) and the page will load as expected.