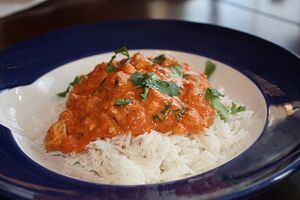 Cut Chicken Into Bite Size Pieces. in Saucepan, Fry onions in ButterTill Golden Brown. Add garlic, ginger, chilli peppers, paprika And CurryPowder. Fry For a Few Seconds. Add Tomatoe Sauce, salt And Chicken,Slowly Bringing to a Boil. Reduce Heat, Simmering Until Chicken isNearly Done, About 15 to 20 minutes. Add whipping cream, Stir And SimmerUntil Chicken is Tender. Garnish With The cilantro.
contributed by
Edit
Ad blocker interference detected!
Wikia is a free-to-use site that makes money from advertising. We have a modified experience for viewers using ad blockers

Wikia is not accessible if you've made further modifications. Remove the custom ad blocker rule(s) and the page will load as expected.