Description
Edit
Bun Tom Xao is the Vietnamese name for Vietnamese lemon grass shrimp salad with vermicelli. It is the proffered salad in Vietnamese restaurants.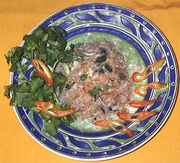 Ingredients
Edit
Directions
Edit
Boil the water, stir in vermicelli, add garlic, lemon grass, red pepper flakes and onions.
Prepare a mixture of fish sauce and add shrimp.
Add this to other ingredients.
Cook noodles and place them over the vegetables.
Ad blocker interference detected!
Wikia is a free-to-use site that makes money from advertising. We have a modified experience for viewers using ad blockers

Wikia is not accessible if you've made further modifications. Remove the custom ad blocker rule(s) and the page will load as expected.