Description
Edit
Cracked wheat pilaf.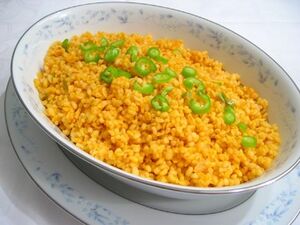 Ingredients
Edit
Directions
Edit
Heat the oil and saute the onion until it glistens; add the vermicelli, breaking it with your hands.
Continue to saute together for 4–5 minutes until it all looks pale golden.
Add the chicken stock and season, but do not add salt if your stock was made from a stock cube; mix well.
Cover the pan and simmer very gently for 6 – 7 minutes at most, until the mixture is dry.
Cover with tea towel, place the lid tightly on top and let it stand for 10 minutes before serving (on uncovering the saucepan you will find its aroma is quite overpowering).
Ad blocker interference detected!
Wikia is a free-to-use site that makes money from advertising. We have a modified experience for viewers using ad blockers

Wikia is not accessible if you've made further modifications. Remove the custom ad blocker rule(s) and the page will load as expected.