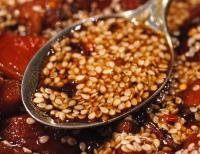 Description
Edit
It is sweet and salty. Very satisfying and even the most anti-Asian food people will eat it if you call it something like 'hot jerky' or what ever.
Preparation: 24 hours and 15 minutes.
This recipe is for 4 – 6 servings.
Ingredients
Edit
Directions
Edit
Mix all the above ingredients in a shallow dish and refrigerate over night. (if there isn't enough liquid add more soy sauce)
Remove meat from the marinade. Barbeque or pan fry.
Serve with rice and stir fried vegies.
Ad blocker interference detected!
Wikia is a free-to-use site that makes money from advertising. We have a modified experience for viewers using ad blockers

Wikia is not accessible if you've made further modifications. Remove the custom ad blocker rule(s) and the page will load as expected.