Description
Edit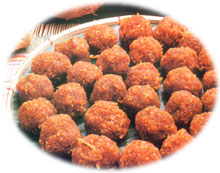 Bukayo is just one of the products made from buko (young coconut). It is an after-dinner sugar fix Filipino children love. It is made by simmering coco meat strips in water and then mixed with white or brown sugar (which explains the white or brown color) resulting into a sweet tasting diabetes-triggering delight.
Ingredients
Edit
Directions
Edit
Cook grated coconut in a pan with a little oil until it turns slightly brown.
Add syrup and thicken with a little flour or cornstarch diluted in water.
Keep stirring so that syrup coats the grated coconut completely, mixture thickens and bukayo gets cooked completely.
When cooked, transfer bukayo to a bowl.
Form into small balls while hot.
Use plastic wrap or wax paper to cushion your hands from the hot bukayo.
Ad blocker interference detected!
Wikia is a free-to-use site that makes money from advertising. We have a modified experience for viewers using ad blockers

Wikia is not accessible if you've made further modifications. Remove the custom ad blocker rule(s) and the page will load as expected.