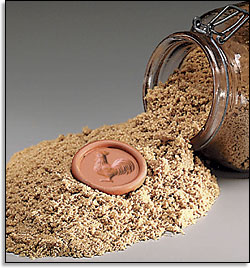 About Brown sugar
Edit
Wikipedia Article About Brown sugar on Wikipedia
Brown sugar is an unrefined or partially refined soft sugar consisting of sugar crystals combined with molasses. Brown sugar is produced similarly to white sugar, with two exceptions. Its crystals are left much smaller than for white sugar, and the syrup or molasses is not washed off completely. Brown sugar contains from 3.5% molasses (light brown sugar) to 6.5% molasses (dark brown sugar).
Store sugar indefinitely in an airtight container.
Ad blocker interference detected!
Wikia is a free-to-use site that makes money from advertising. We have a modified experience for viewers using ad blockers

Wikia is not accessible if you've made further modifications. Remove the custom ad blocker rule(s) and the page will load as expected.