Description
Edit
A red-hot combination of brown rice and curry powder is made with real vegetables, cooked to fresh perfection, and served with other meals.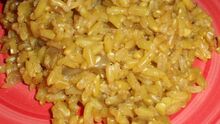 Ingredients
Edit
Directions
Edit
Add the stock to a large pot and bring to a boil.
Add all the ingredients before sautéing with the olive oil.
Average cooking time is 60 minutes. Let stand for 10 minutes and fluff with fork. Serve hot and plain but pair this curry-based rice dish with other main dishes.
Nutritional Information
Edit
Servings: 3 tablespoons per plate
Ad blocker interference detected!
Wikia is a free-to-use site that makes money from advertising. We have a modified experience for viewers using ad blockers

Wikia is not accessible if you've made further modifications. Remove the custom ad blocker rule(s) and the page will load as expected.