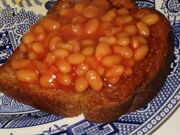 Beans on toast (British version) - Can be eaten for breakfast, dinner, tea, super or when ever you want. Yum Yum, a favorite dish for all the family. For a real treat cover liberally with grated cheddar cheese then put under a hot grill until the cheese is all brown and bubbly.
Ingredients
Edit
Directions
Edit
Grill the bread, either white or brown to the colour that you like.
Whilst the toast is in the toaster put the beans in a saucepan preferably (or a microwave dish) and cook until hot.
When the toast is done put loads of butter on -never marge- and put the beans on top.
Add lots of black pepper and Daddies brown sauce on top of the dish and enjoy!
Ad blocker interference detected!
Wikia is a free-to-use site that makes money from advertising. We have a modified experience for viewers using ad blockers

Wikia is not accessible if you've made further modifications. Remove the custom ad blocker rule(s) and the page will load as expected.