Description
Edit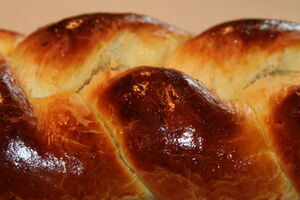 Ingredients
Edit
Sprinkle the yeast into warm water in a large mixing bowl.
Let stand until puffy.
Add sugar, salt, and one cup of flour; beat well.
Add three eggs, one at a time. Beat until smooth.
Beat in the butter and gradually add enough remaining flour to make a soft dough.
Turn out on a floured board. Knead until smooth and satiny.
Place in a greased bowl.
Butter the top of dough lightly. Cover with a towel. Let rise in a warm place until doubled in size.
Mix in the cheese if used and turn out on a floured board. Knead lightly.
Divide into three pieces and shape into long ropes; braid the strands and tuck ends under.
Place on a greased baking sheet and cover and let rise in a warm place until doubled in size.
Preheat the oven to 350°F.
Bake in the oven for 30 to 35 minutes or until golden brown, and the loaf sounds hollow when thumped.
Ad blocker interference detected!
Wikia is a free-to-use site that makes money from advertising. We have a modified experience for viewers using ad blockers

Wikia is not accessible if you've made further modifications. Remove the custom ad blocker rule(s) and the page will load as expected.