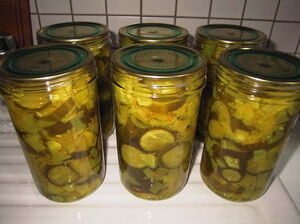 Bread-and-butter pickles are sweeter in flavor than dill pickles, having a high concentration of sugar or other sweetener added to the brine. Sweet pickles made from thin slices of unpeeled cucumber; usually pickled with onion and sweet green bell pepper, and flavored with mustard and celery seeds, cloves and turmeric. Rather than being served alongside a sandwich, they are more often used in fully-flavored sandwiches, such as hamburgers, or used in potato salad. Cucumbers to be made into bread and butters are often sliced before pickling.
Ad blocker interference detected!
Wikia is a free-to-use site that makes money from advertising. We have a modified experience for viewers using ad blockers

Wikia is not accessible if you've made further modifications. Remove the custom ad blocker rule(s) and the page will load as expected.