Description
Edit
Thriftiness is a strong trait in many older Icelanders, especially the generations that were born before World War II. Everything had to be used up, and throwing away leftover food amounted to a domestic crime. This thick soup is one way of using up bread leftovers and crusts.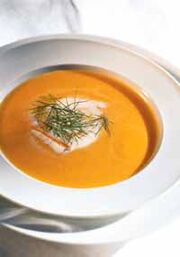 Ingredients
Edit
Directions
Edit
Soak the bread in the water overnight, or until the crusts are soft. Puree in a blender and cook on low for 1 hour. Add the Raisins, lemon slices and Sugar and cook for about 10 minutes more. Serve warm with whipped cream.
Other Links
Edit
See also
Edit
Ad blocker interference detected!
Wikia is a free-to-use site that makes money from advertising. We have a modified experience for viewers using ad blockers

Wikia is not accessible if you've made further modifications. Remove the custom ad blocker rule(s) and the page will load as expected.