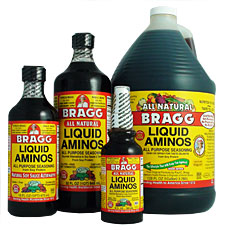 Bragg Liquid Aminos is a Certified NON-GMO liquid protein concentrate, derived from soybeans, that contains the following Essential and Non-essential Amino Acids in naturally occurring amounts:
Alanine
Arginine
Aspartic Acid
Glutamic Acid
Glycine
Histidine
Isoleucine
Leucine
Methionine
Phenylalanine
Proline
Serine
Threonine
Tyrosine
Valine
Lysine
Ad blocker interference detected!
Wikia is a free-to-use site that makes money from advertising. We have a modified experience for viewers using ad blockers

Wikia is not accessible if you've made further modifications. Remove the custom ad blocker rule(s) and the page will load as expected.