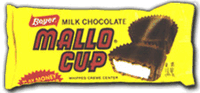 Description
Edit
The Milk Chocolate Mallo Cup is made by Boyer Candies of Altoona, PA. It is similar to a peanut butter cup, except it contains marshmallow filling instead of peanut butter. The cup containing the marshmallow is made from chocolate and coconut.
The Mallo Cup was originally intended to be a chocolate marshmallow covered bar, but the Boyers could not get the marshmallow center to stiffen. Mrs. Boyer, mother of the Boyer brothers, suggested using cupcake papers for a chocolate cup candy line. The manufacture of these chocolate cup candies began on May 29, 1946.
Reviewers at taquitos.net said the product tasted great overall.
Ad blocker interference detected!
Wikia is a free-to-use site that makes money from advertising. We have a modified experience for viewers using ad blockers

Wikia is not accessible if you've made further modifications. Remove the custom ad blocker rule(s) and the page will load as expected.