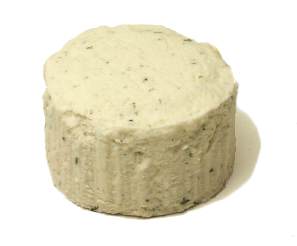 Name Variations
Edit
About Boursin
Edit
Boursin [buʀsɛ~] is a brand of Gournay cheese. It is a soft creamy cheese available in a variety of flavours, with a flavor and texture somewhat similar to cream cheese. Boursin is a trademark.
White and smooth with a buttery texture, this triple-cream is often flavored with herbs, garlic, or cracked pepper.
Boursin cheese was first produced in 1957 by François Boursin in Normandy, and at one time was produced exclusively in Croisy-sur-Eure, France, by the Boursin company, a subsidiary of Groupe Bel, which purchased Boursin in November 2007 for 400 million euros. The cheese is also produced in the United States for North American distribution by Unilever.
Ad blocker interference detected!
Wikia is a free-to-use site that makes money from advertising. We have a modified experience for viewers using ad blockers

Wikia is not accessible if you've made further modifications. Remove the custom ad blocker rule(s) and the page will load as expected.