Description
Edit
This seafood-based skewer is made with bourbon whiskey and real bacon, enriched with Dijon mustard, and grilled to red-hot perfection.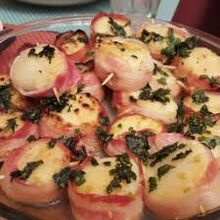 Ingredients
Edit
Directions
Edit
Combine first 6 ingredients in a bowl; stir well.
Add scallops, stirring gently to coat.
Cover and marinate in refrigerator 1 hour, stirring occasionally.
Wrap 1 bacon piece around each scallop (the bacon might only wrap halfway around scallops if they are very large).
Place skewers on a broiler pan coated with cooking spray; broil 8 minutes or until bacon is crisp and scallops are done, basting occasionally with reserved marinade (cooking time will vary greatly with the size of scallops). Serve hot and plain with rice or with any side dish, main dish, or appetizer.
Nutritional information
Edit
Calories 245 (26% from fat) | fat 7g (sat 2g, mono 2.5g, poly 1.1g) | protein 32.4g | carb 11.3g | fiber 0.1g | chol 68 mg | iron 0.7 mg | sodium 642 mg | calc 51m