Description
Edit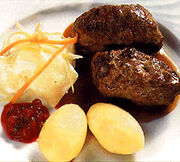 Ingredients
Edit
Directions
Edit
Combine the meat with the dry ingredients in a mixer bowl and beat in the milk.
Form oval cakes, about 80 g each.
Press a cube of marrow sprinkled with cloves and ginger into each cake.
Fry in butter on all sides, then simmer in brown gravy about 5 minutes.
Serve with boiled potatoes and creamed vegetables.
See also
Edit
Ad blocker interference detected!
Wikia is a free-to-use site that makes money from advertising. We have a modified experience for viewers using ad blockers

Wikia is not accessible if you've made further modifications. Remove the custom ad blocker rule(s) and the page will load as expected.