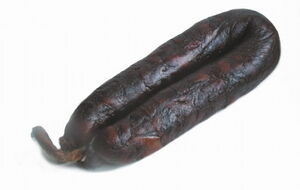 Name Variations
Edit
blood pudding
black pudding
boudin
morcilla
About blood sausage
Edit
Also known as blood pudding and in Ireland as black pudding, this large link sausage is made of pig's blood, suet, bread crumbs and oatmeal. Almost black in color, blood sausage is generally sold precooked. It is traditionally sauteed and served with mashed potatoes.
Ad blocker interference detected!
Wikia is a free-to-use site that makes money from advertising. We have a modified experience for viewers using ad blockers

Wikia is not accessible if you've made further modifications. Remove the custom ad blocker rule(s) and the page will load as expected.