Description
Edit
Bistek Tagalog is the Filipino version of beef steak. It is a usual Filipino dish that went through a makeover. It is made with beef or pork marinated in calamansi or lemon juice, soy sauce and pepper topped with onion rings.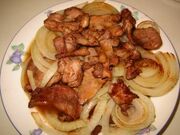 Ingredients
Edit
Directions
Edit
Set aside 3.
Ad blocker interference detected!
Wikia is a free-to-use site that makes money from advertising. We have a modified experience for viewers using ad blockers

Wikia is not accessible if you've made further modifications. Remove the custom ad blocker rule(s) and the page will load as expected.