This is a very traditional Danish dish and one that merchant sailors love to make when they come off night watch and want a quick easy hot meal. It is so simple and very good. Great recipe for re-cycling left over roasts etc.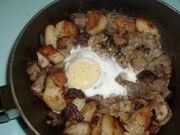 Ingredients
Edit
3 ounces butter
2 medium onions, chopped
1 1/2 lbs cooked cold potatoes, diced
1 lb cooked leftover meat
4 fried eggs (optional)
Directions
Edit
Melt the 1/2 the butter in a skillet, saute the onions until golden, remove from pan and keep warm Put the remaining butter in the skillet and saute the potato until they are turning brown Add meat and cook for 2–3 minutes.
Add the onions and cook until all is heated through.
Traditionally you put a fried egg on top of the hash that is still soft centered but you do not need to have the egg- but It is so good.
Other Links
Edit
See also
Edit
Ad blocker interference detected!
Wikia is a free-to-use site that makes money from advertising. We have a modified experience for viewers using ad blockers

Wikia is not accessible if you've made further modifications. Remove the custom ad blocker rule(s) and the page will load as expected.