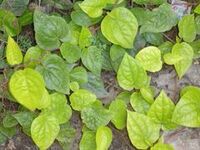 Name Variations
Edit
About Betel leaf
Edit
Wikipedia Article About Betel leafs on Wikipedia
The Betel (Piper betle) is a spice whose leaves have medicinal properties. The plant is evergreen and perennial, with glossy heart-shaped leaves and white catkins, and grows to a height of about 1 metre. The Betel plant originated in Malaysia and now grows in India, Indonesia and Sri Lanka. The best Betel leaf is the "Magahi" variety (literally from the Magadha region) grown near Patna in Bihar, India.
Ad blocker interference detected!
Wikia is a free-to-use site that makes money from advertising. We have a modified experience for viewers using ad blockers

Wikia is not accessible if you've made further modifications. Remove the custom ad blocker rule(s) and the page will load as expected.