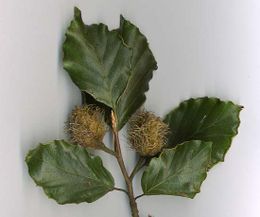 Name Variations
Edit
About Beechnut
Edit
Wikipedia Article About Beechnut on Wikipedia
Beech (Fagus) is a genus of ten species of deciduous trees in the family Fagaceae, native to temperate Europe, Asia, and North America. The leaves are entire or sparsely toothed, from 5-15 cm long and 4-10 cm broad. The flowers are small single-sex, wind-pollinated catkins, produced in spring shortly after the new leaves appear. The fruit is a small, sharply 3-angled nut 10-15 mm long, borne in pairs in soft-spined husks 1.5-2.5 cm long, known as cupules. The nuts are edible, though bitter with a high tannin content, and can be called beechmast.
The beech most commonly grown as an ornamental tree is the European Beech (Fagus sylvatica), widely cultivated in North America as well as its native Europe. The European species yields a widely used timber, an easy-to-work utility wood.
Ad blocker interference detected!
Wikia is a free-to-use site that makes money from advertising. We have a modified experience for viewers using ad blockers

Wikia is not accessible if you've made further modifications. Remove the custom ad blocker rule(s) and the page will load as expected.