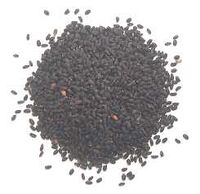 Name Variations
Edit
About Basil seed
Edit
Wikipedia Article About Basil seeds on Wikipedia
When soaked in water the seeds of several basil varieties become gelatinous, and are used in Asian drinks and desserts such as falooda or sherbet. Such seeds are known variously as sabja, subja, takmaria, tukmaria, or falooda seeds. They are used for their medicinal properties in Ayurveda, the traditional medicinal system of India.
Ad blocker interference detected!
Wikia is a free-to-use site that makes money from advertising. We have a modified experience for viewers using ad blockers

Wikia is not accessible if you've made further modifications. Remove the custom ad blocker rule(s) and the page will load as expected.