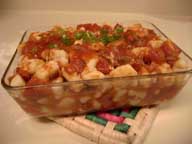 Ingredients
Edit
Directions
Edit
Close pressure cooker and put in medium heat.
Cook for 5 minutes after the regulator starts to blow steam or until tender.
Peel potatoes and rice them using a potato ricer.
Place riced potatoes in a large bowl and refrigerated for at least 3 hours (better if refrigerated overnight).
Combine into the refrigerated riced potatoes the egg, margarine, salt, grated cheese and mix well while adding the flour just enough to keep mixture from sticking.
Roll the dough on a lightly floured surface into a rope ¾-inch thick and cut into 1-inch long pieces.
Press each piece with a fork to create a pattern and slight indentation that will hold the sauce when served.
The gnocchi are done about 2 minutes after they float to the surface, remove with a slotted spoon, and serve.
Ad blocker interference detected!
Wikia is a free-to-use site that makes money from advertising. We have a modified experience for viewers using ad blockers

Wikia is not accessible if you've made further modifications. Remove the custom ad blocker rule(s) and the page will load as expected.