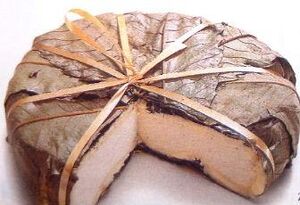 Goat's-milk cheese that is cured in chestnut leaves and sometimes washed in marc or cognac. It has a soft to semi-soft texture and a mild lemony flavor.
A variety of white cheese that comes from the Provence region of France. It is traditionally made with pasteurized goat's milk known as Banon Chevre, but it also made with cow's milk or a blend of sheep's, cow's and goat's milk. The texture of Banon cheese ranges from soft to firm and the flavor is mild to sharp. It is sold in small rounds that are traditionally wrapped with chestnut or grape leaves to enhance the flavor of the cheese and keep it moist, which hastens the production of molds adding even more flavor as the cheese ages. As it ages, the cheese becomes more creamy in texture and richer in flavor, providing a somewhat fruity tasting cheese. Banon cheese is usually served as an hors d'oeuvre or as a dessert cheese with fruit and a dessert wine.
Ad blocker interference detected!
Wikia is a free-to-use site that makes money from advertising. We have a modified experience for viewers using ad blockers

Wikia is not accessible if you've made further modifications. Remove the custom ad blocker rule(s) and the page will load as expected.