Description
Edit
A divine mix of pancakes and bananas is made and eaten for breakfast, with another dessert being served on the side. You can make this with other fruits in a pancake for breakfast or dessert, while it often keeps a natural taste with the fruits.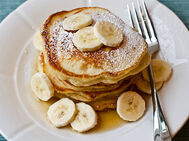 Ingredients
Edit
2 cups self-raising flour
¼ teaspoon baking
1 cup milk
2 tablespoons honey
45 g. melted butter or (4 tablespoons oil, corn, canola, or vegetable only)
2-3 very ripe mashed bananas
3 tablespoons fruit juice, lemon or lime only, optional
Directions
Edit
Sift flour and baking powder into a bowl.
Make a well in the middle. Combine the remaining ingredients; add flour and beat until free of lumps.
When the pan is hot, spoon in one desired amount of mixture.
When bubbles start to appear in the batter, flip over and cook the other side.