Description
Edit
There are as many recipes for Bami Goreng as there are people to make them. This is an Indonesian dish that's traditional to Holland. This is my version and I hope you enjoy it.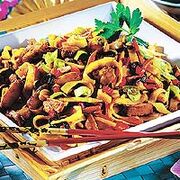 Ingredients
Edit
Cooking Directions
Edit
Cook chinese egg noodles according to package directions; drain in a strainer and rinse with cool running water (to prevent further cooking or sticking); set aside.
Heat a large frying pan and spray with non-stick cooking spray.
Swirl in the beaten egg to make an omelet.
Remove from pan and let cool.
Cut omelet into thin strips; set aside.
In a large wok style pan heat oil.
Saute chicken with garlic, coriander, ginger and broth until chicken is no longer pink (5 to 7 minutes).
Add sliced omelet and Chinese egg noodles; mix well and heat thoroughly before serving.
Ad blocker interference detected!
Wikia is a free-to-use site that makes money from advertising. We have a modified experience for viewers using ad blockers

Wikia is not accessible if you've made further modifications. Remove the custom ad blocker rule(s) and the page will load as expected.