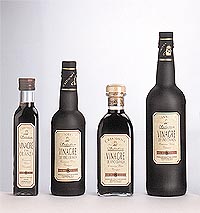 About Balsamic vinegar
Edit
Wikipedia Article About Balsamic vinegar on Wikipedia
Balsamic vinegar (Italian: aceto balsamico) is a traditional flavoured vinegar commonly used in Italian cuisine. It is also often used as a salad dressing when combined with oil. It is a traditional product originating in Modena, where it has been made since the Middle Ages and the name is protected by the Italian government. Unlike common vinegars, it is dark and thick with a complex, sweet taste and is much more expensive.
In its long-aged forms (at least 10 and even up to 25 years) it is often taken straight or served over strawberries, while the more mass-market vinegar (usually aged 3 years or less) is used in salad dressings and marinades.
Balsamic vinegar is a centuries-old specialty of Modena, Italy, is made from reduced grape juice and is aged and blended for many years in a succession of casks made of different woods and gradually diminishing in size. The result is a thick, tart-sweet, intensely aromatic vinegar.
Ad blocker interference detected!
Wikia is a free-to-use site that makes money from advertising. We have a modified experience for viewers using ad blockers

Wikia is not accessible if you've made further modifications. Remove the custom ad blocker rule(s) and the page will load as expected.