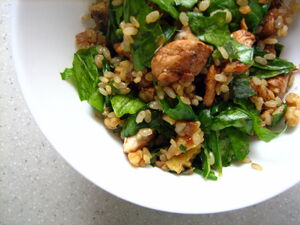 Info
Cook Time:
Serves:
Ingredients
1 recipe Balsamic Vinaigrette (recipe below)
===Balsamic Vinaigrette===
Directions
Vinagrette
1.Place vinaigrette ingredients in an airtight container and shake until combined or use a whisk to combine in a bowl then set aside.
Salad
1.Preheat broiler. Adjust oven rack to about 4-5 inches from heat.

2.Place 2 tablespoons of the vinaigrette in a bowl then brush chicken halves on each side.

3.Spray a broiler pan with cooking spray then place chicken on pan. Place pan on oven rack and cook chicken for about 15 minutes or until no longer pink in the thickest part of the meat and juices run clear. Turn halves to other side halfway through the time to ensure even cooking. Cut chicken into 1/4-inch slices and set aside.

4.In a large bowl, toss together the green beans, rice, cabbage, carrot and green onion. Add remaining vinaigrette and toss until well-coated.

5.Place lettuce leaves on salad plates. Add a serving of the rice mixture in the center and top with chicken slices.
Source
Balsamic Chicken and Brown Rice Salad from the Public Health Cookbook by the Seattle and King County Department of Public Health—original source of recipe, government resource in the public domain
Ad blocker interference detected!
Wikia is a free-to-use site that makes money from advertising. We have a modified experience for viewers using ad blockers

Wikia is not accessible if you've made further modifications. Remove the custom ad blocker rule(s) and the page will load as expected.