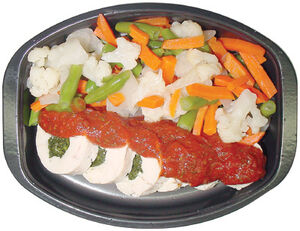 Meat, fish or fowl that has been boned, stuffed, rolled and tied in the shape of a bundle. It is then braised or roasted and is normally served hot but can be served cold.
A pâté-like dish in which forcemeat is stuffed back into the boneless carcass from which the forcemeat was made. This may include fish, poultry, game birds, or even some cuts of meat. The mixture is wrapped in muslin and poached or braised. These dishes may be served hot or cold.
Ad blocker interference detected!
Wikia is a free-to-use site that makes money from advertising. We have a modified experience for viewers using ad blockers

Wikia is not accessible if you've made further modifications. Remove the custom ad blocker rule(s) and the page will load as expected.