Prep Time: 5 minutes
Cook time: 10 minutes
Serves: 4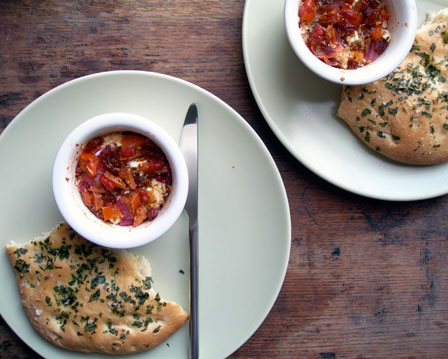 Description
Edit
This is an incredibly easy recipe but it makes a delicious snack to enjoy with a glass of wine. I poached the idea from a Tapas restaurant that I used to work in. Spread on baked Turkish bread or Pizza Bianca.
Ingredients
Edit
Directions
Edit
Preheat the oven to 200 °C.
Slice the capsicum, tomato and the red onion thinly.
Place the slab of feta in a shallow, oven proof dish.
Arrange the whole chili, sliced tomato, capsicum and onion around and on top of the Feta.
Sprinkle with oregano, salt and pepper.
Add a very liberal dash of olive oil (approximately 2 tbsp).
Cook for around 10 minutes or until the texture of the cheese is soft and creamy.
Ad blocker interference detected!
Wikia is a free-to-use site that makes money from advertising. We have a modified experience for viewers using ad blockers

Wikia is not accessible if you've made further modifications. Remove the custom ad blocker rule(s) and the page will load as expected.