Description
Edit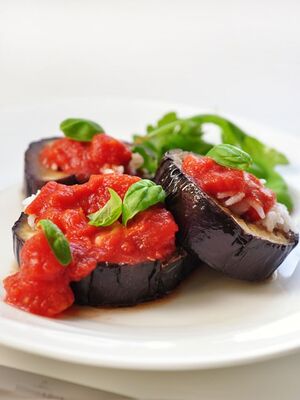 Ingredients
Edit
Directions
Edit
1 Directions: arrange Eggplant slices on a baking sheet coated with vegetable-oil spray.
2 Place about one tablespoonful of spaghetti sauce on each slice.
3 With the back of a spoon, spread sauce almost to the edge of each slice.
4 (optional: sprinkle with your favorite herbs and spices).
5 Bake at 350 °F for about 30–35 minutes.
6 Eggplant slices are done when they are tender and can be pierced easily with a fork.
7 Use them as a sandwich filling, or serve them as a side dish or over rice or Pasta as an entree.
Other Links
Edit
See also
Edit
Ad blocker interference detected!
Wikia is a free-to-use site that makes money from advertising. We have a modified experience for viewers using ad blockers

Wikia is not accessible if you've made further modifications. Remove the custom ad blocker rule(s) and the page will load as expected.